Alligators at Gatorland
From the mid-1800s to the mid-1900s, alligator shoes and purses were so popular, alligators were hunted nearly to extinction. By 1967, the alligator was listed as an endangered animal. Thankfully, the Endangered Species Act of 1973 prohibited alligator hunting, allowing the species to rebound. Today you can see more than 2000 American Alligators on the 110-acre theme park and wildlife preserve known as 'The Alligator Capital of the World' – Gatorland!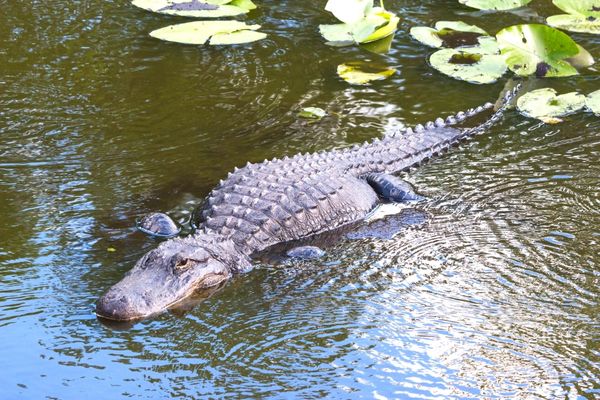 Alligators and Crocodiles in Orlando
Book your stay at East Toho RV Resort & Marina and take a little day trip to Gatorland at 14501 S Orange Blossom Trail in Orlando to see these modern-day dinosaurs. There's more than one kind! You'll see rare white alligators at the White Gator Swamp. Meet Cottontail, Moonshine, and Pearl before heading to the Baby Gator Marsh. That's where the hatchlings live until they are big enough to move to larger quarters.
See crocodiles living side by side with alligators. You may think that crocs are native to the Nile River in Egypt, but there are American crocodiles living right here in the swamps of Florida. These reptiles have pointier snouts and lighter colored hides than the gators. They like to sun themselves with their mouths open, showing all their teeth.
Other Wild Things to Do at Gatorland
What else can you do at Gatorland, beside give yourself the creeps looking at fearsome alligators? Attractions in the park include a breeding marsh* with a boardwalk and observation tower, zip lines, an off-road swamp vehicle tour, a ridable miniature railroad, gator feeding shows, alligator wrestling shows, an aviary, a petting zoo, and MORE wild animals…
Wild Cats
Wild Birds
Snakes
Tortoises
*Fun fact: The breeding marsh area of the park was used in the filming of the 1984 movie Indiana Jones and the Temple of Doom.
Make More Memories at East Toho RV Resort & Marina
C'mon back to your own comfy RV at East Toho RV Resort & Marina where you can sun yourself like an alligator by the pool, launch your boat, fish for your dinner on East Lake Toho, and enjoy all the amenities under the old oak trees here in Central Florida.