Car Shows in Kissimmee's Historic Old Town
In a region jam packed with theme parks and thrill rides, Historic Old Town in Kissimmee stands out as something almost magically different…reality! Built in 1986, Old Town is a 10-acre walking district containing a collection of shops, restaurants and family-friendly amusements, including car shows. The free vehicle shows and car cruises feature hot rods, street rods, and vintage cars.
Wednesday Car Shows are theme nights! Every Wednesday features specific types, models or makes of cars and trucks. As long as you own that type of vehicle, you can be a part of the show. It's free to participate. Live music too!
Friday Car Shows are for Muscle Cars! The Friday Muscle Car Show begins at 3:00pm and the qualifications are show-quality muscle and factory-performance cars from 1964 and newer and classics from 1983 and older.
Saturday Car Shows are for Classics! The Old Town Classic Car Show has been a local tradition for over 30 years and is one of the premier weekly car shows in Central Florida. The Saturday Classic Car Show begins at 1:00pm and welcomes show-quality 1985 and older hot rods, street rods, and antiques.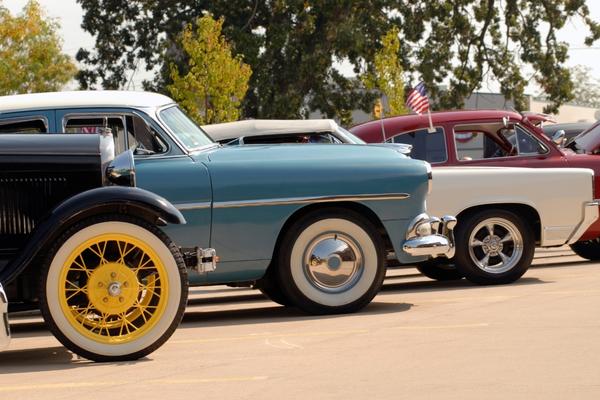 Cruising at the Car Shows
Owners with cars in the Muscle Show and/or Classic Show will cruise at 8:30pm and all cars registered can participate. The Cruise is free for car owners and free for the public to attend. Do you own a Muscle Car or a Vintage Car? Enter it in the Friday or Saturday car shows. You might win big.
***$2,000 Giveaway Every Month ($1,000 on Friday and $1,000 on Saturday) ***
Exclusive for Old Town Cruisers – Each time you cruise at Old Town on Friday and Saturday during the month, you're entered for the chance to win $1,000! After the cruise on the last Friday and Saturday of each month, one name will be drawn and that Cruiser will win $1,000 courtesy of Old Town Kissimmee.
Bring the family and your cherished vehicle to a car show at Kissimmee's Old Town at 5770 West Irlo Bronson Memorial Highway. You might drive home $1000 bucks richer!
Make East Toho Resort Your Homebase for the Car Shows
Reserve your stay at pet-friendly East Toho RV Resort and Marina to enjoy the unspoiled waters of Lake Toho, fresh air, and proximity to the old-fashioned fun at Old Town Kissimmee. Book Now!
Stay Looong Enough to See Everything – Save More When You Stay More
Two incredible summer deals! Get 'em while the weather is hot!
Looong Weekend Special – Why go home when you can stay another night? Stay 3 nights for the price of 2 in one of our newly-remodeled vacation rentals. Use Promo Code 3for2 when making your reservation. Your Looong Weekend must begin on a Thursday or Friday. Click here for all the details.
Weekday Wins – Every weekday is a holiday at East Toho RV Resort. Book a 3 weekday stay in one of our newly-remodeled vacation rentals and get the 4th day FREE! Your carefree money-saving 4-day stay begins when you use Promo Code wdwins to make your reservation. Your stay must begin on a Sunday or Monday. Click here for all the details.