East Toho RV Resort – Your Getaway to SeaWorld
Water, water everywhere – in shimmering East Lake Toho, in our sparkling swimming pool, and in acres of rides, slides, pools, and attractions at SeaWorld in Orlando. Book your summer vacation at pet-friendly East Toho RV Resort and thrill to all the water the world has to offer in Central Florida and SeaWorld.
The Seven Seas at SeaWorld
Penguins, seagulls, pounding surf, thrilling rollercoasters, and gigantic live marine animals from the Tropics to Antarctica and everywhere in between… and it's all only 22 miles north of your campsite via the Florida Turnpike. Just hop in your car to see the Seven Seas, SeaWorld style.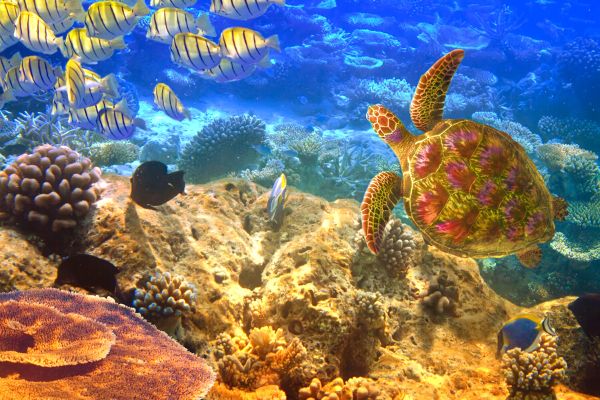 Sea of Shallows – Designed to resemble the city of Key West, you'll ride the Manta roller-coaster, see alligators, sea turtles, and pelicans, and have the opportunity to feed stingrays and dolphins.
Sea of Legends – Journey by boat to the mythical lost kingdom of Atlantis and ride the Kraken, a floorless roller-coaster!
Sea of Ice – Penguins everywhere in the Antarctic exhibit
Sea of Delight – Visit the Waterfront, a Mediterranean village, the Seaport Theater, and Pets Ahoy. See real, live sea lions and otters.
Sea of Mystery – See sharks at the Shark Encounter, dine at Shark's Underwater Grill, and ride the Mako, a thrilling hypercoaster. Don't miss Infinity Falls in the rainforest.
Sea of Power – Go to Shamu Stadium at SeaWorld to see the killer whale shows. Plus! New in 2022 – The Icebreaker – a quadruple-launch family roller coaster featuring the steepest drop of any coaster in Florida. Wow!
Sesame Street Land – Located next to Shamu Stadium and formerly known as 'Sea of Fun', this area is devoted to family activities like Super Grover's Box Car Derby (a junior roller-coaster) and a water play area.
Meanwhile, Back at East Toho RV Resort
Whew! What a day of fun at SeaWorld! C'mon back to your cabin or RV site under the Spanish moss-draped oak trees and enjoy boating, fishing, swimming, and all the amenities at the friendliest campground in Central Florida – East Toho RV Resort.